Irobot Braava Jet M6138 Connected Robot Mop With Precision Jet Spray Wet Mopping And Dry Sweeping Maps Your Home Recharges And Resumes 2 Year Warranty On Robot 1 Year On Battery, White, M613840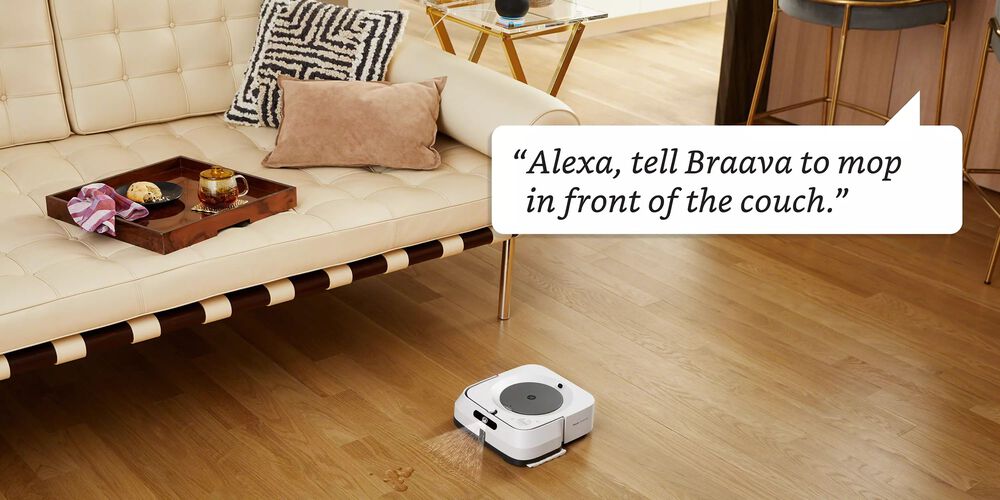 A simple request to your voice assistant* or via the iRobot Home App enables the Braava jet® m6 to clean messes for you, right when they happen.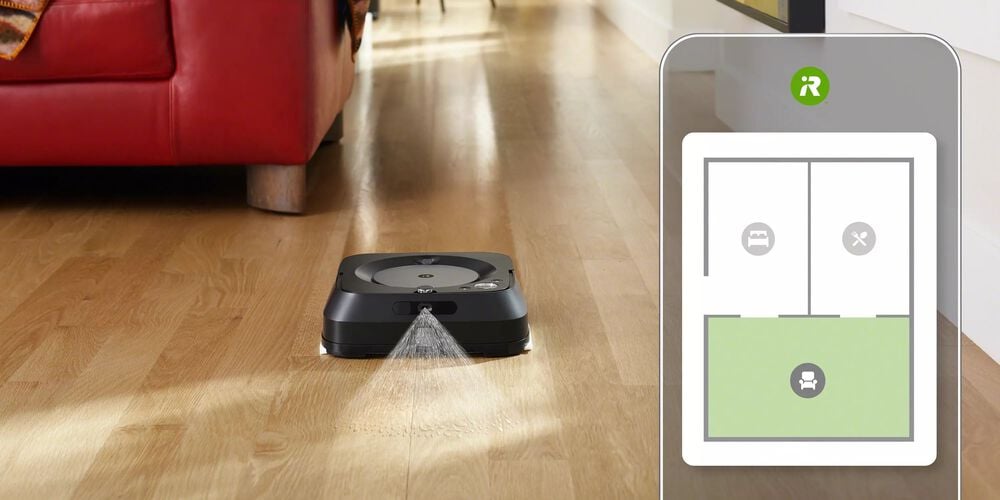 Only iRobot brings you Imprint® Smart Mapping allowing you to control and schedule which rooms are cleaned and when, while storing multiple maps for easier cleaning on each level of your home.
iRobot Braava m6 – Mops around your home, and your life.
Over 30 years of robotics expertise and continuous innovation

iRobot has over 30 years of robotics expertise and innovation with over 30 million home robots sold worldwide. Whether you choose Roomba, Braava or both – your floors get the specialized care they need.

Messes don't stick around

Precision Jet Spray loosens dirt and sticky messes without spraying furniture, rugs, or walls

Doubles down on messes

Attach a Braava jet Cleaning Pad and the robot automatically selects the cleaning method.

Wet Mopping Wet Mopping pads feature wicking fibers to help break-up sticky messes, grime*, and kitchen grease Washable Wet Mopping Washable Wet Mopping pads use wicking fibers to break-up sticky messes, grime*, and kitchen grease

Dry Sweeping Dry Sweeping pads use electrostatic force to capture dirt, dust, and pet hair Washable Dry Sweeping Washable Dry Sweeping pads use microfiber to capture dirt, dust, and pet hair

*Tested in spot clean mode.
Mops when, where, and how you want

Imprint Smart Mapping allows you to control which rooms are mopped and when, for mopping that works around you and your schedule. Plus, you can tell your robot to stay away from certain areas or objects with customizable Keep Out Zones.

Mops messes the moment they happen

The m6 can mop specific messes for you right when they happen, so if you're racing out the door and notice coffee spilled in front of the kitchen counter, you can use the iRobot Home App or your Google or Alexa voice assistant to tell the m6 to immediately clean that spot and consider it done

Alexa and all related logos are trademarks of Amazon.com or its affiliates. Google is a TM of Google LLC

Learns your life. Listens to your voice

The Braava jet m6 robot mop learns from your cleaning habits to offer up customized schedules, while Google Assistant and Alexa compatibility allow you to start mopping with just the sound of your voice. It will even suggest an extra mop when your area's pollen count is high or during pet shedding season.

Alexa and all related logos are trademarks of Amazon.com or its affiliates. Google is a TM of Google LLC
Next-Level Navigation
With vSLAM navigation, the m6 learns the layout of your home and builds personal Smart Maps, enabling it to expertly clean and maneuver in neat, efficient rows. And if it's running low on battery, it charges itself and picks up where it left off to ensure the job gets done.
Maximized-Edge Design
Maximized-Edge Design gets into corners and along edges, cleans under furniture and in other hard-to-reach places
Your privacy is our priority
We're committed to providing you with the highest standards of privacy protection, helping to make sure your data stays private, secure —and is used to improve your experience and your robot's performance.
Dependability backed by service— that's the iRobot promise
We make robots that last—designed with you in mind, built for dependability and backed by responsive cust service. If you ever need help, knowledgeable agents are available by phone or email to quickly get your robot cleaning again.
Mops around your home, and your life.
1 iRobot Braava jet m6138
1 Home Base Charging Station
1 Line Cord
1 Cleaning Starter Kit:
– Braava jet Hard Floor Cleaning Solution Sample
2 Wet Mopping Pads
1 Dry Sweeping Pad
1 Washable Wet Mopping Pad
1 Washable Dry Sweeping Pad
Irobot Has Over 30 Years Of Robotics Expertise And Innovation With Over 30 Million Home Robots Sold Worldwide. Whether You Choose Roomba, Braava Or Both Your Floors Get The Specialized Care They Need.

Messes Don'T Stick Around: Precision Jet Spray Loosens Dirt And Sticky Messes Without Spraying Furniture, Rugs, Or Walls

Doubles Down On Messes: The Robot Intelligently Knows Which Mode To Use Based On Pad Type. Plus, Our New Pad Technology Developed For Braava Jet M6 Robot Mop Uses Electrostatic Force To Sweep And Wicking Fibers To Mop.

Mops When, Where, And How You Want: Imprint Smart Mapping Allows You To Control Which Rooms Are Mopped And When.

Mops Messes The Moment They Happen: The M6 Can Mop Specific Messes For You Right When They Happen

Learns Your Life. Listens To Your Voice: The Braava Jet M6 Robot Mop Learns From Your Cleaning Habits To Offer Up Customized Schedules.

Next Level Navigation: With Vslam Navigation, The M6 Learns The Layout Of Your Home And Builds Personal Smart Maps, Enabling It To Expertly Clean And Maneuver In Neat, Efficient Rows
We also provide international shipping to all GCC countries: Saudi Arabia, Qatar, Oman, Kuwait, Bahrain.