Bose SoundLink Revolve Plus 2 Portable Speaker -Silver
This true 360° speaker was engineered to spread deep, jaw-dropping sound in every direction. That means, when everyone stands around it, everyone gets the same experience. If you place it near a wall, sound will radiate and reflect around the room, immersing you in that same feeling you felt at your favourite concert. And with a flexible handle, it's designed to go wherever you want to bring the music.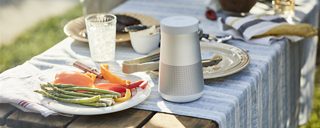 SoundLink Revolve+ II Bluetooth speaker
Powerful performance, for any occasion.
Living room dance party? Puzzle party with your flatmate? Craft night with the kids? Whatever (and wherever) you have planned, the Bose SoundLink Revolve+ delivers the sound you want and the portability you need.
Bose Connect App.
With an intuitive drag and drop interface, the app lets you easily switch between Bluetooth devices. Plus, it includes product tips to help you get even more from your speaker. If you want to use Stereo or Party mode for multiple SoundLink Revolve speakers, you can use the app for that, too.
More to hear. More to share.
Don't let its size fool you. This pint-sized enclosure is packed with more technology than meets the eye. A highly efficient transducer. Dual-passive radiators. An omnidirectional acoustic deflector. All of which simply means you'll get lifelike sound… and real-life goosebumps.
You're not afraid of a little water. Your speaker shouldn't be either. SoundLink Revolve+ II's water-resistant design means you can use it in more places without worrying about an accidental showering of water, like by the pool or the kitchen sink.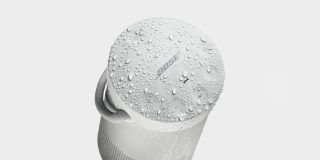 Bumpers for bumping
You're not perfect. And with this speaker, you don't need to be. No worries if you knock it over, toss it in your bag or set it down a little harder than you meant to. Soft materials let you bump without worrying.
All sound. No seam.
No detail is too small. Not even a single seam. Notice that our grille doesn't have one. That's because we created a new single-extrusion process to eliminate it—leaving nothing but beauty.
Totally tote-able
A flexible fabric handle makes SoundLink Revolve+ II easy to move. And it feels good, too. That's because we meticulously chose every material for this speaker—right down to the soft, smooth buttons that ensure every interaction feels as natural as you know it should.
ADD MORE SOUND AROUND THE HOUSE
Want to listen to the same music in different rooms at the same time? You can always group two or more Bose Home Speakers together—and now, with Bose SimpleSync™ technology, you can also group a Bose Home Speaker with a Bose SoundLink Bluetooth speaker and play them both in perfect sync.
Don't have your phone handy? Don't worry. You can still book a table for dinner or send a text message. Just press and hold the multi-function button to access the voice input for your phone's Siri or Google Assistant right from the speaker. Problem solved.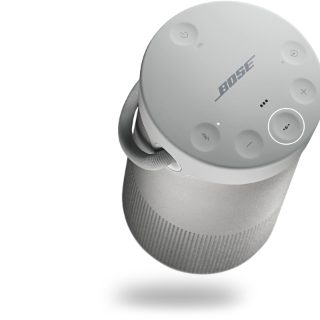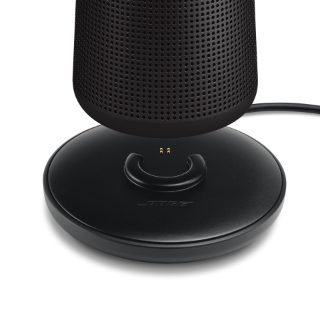 We also provide international wholesale and retail shipping to all GCC countries: Saudi Arabia, Qatar, Oman, Kuwait, Bahrain.