beurer PO 30 Pulse Oximeter – Silver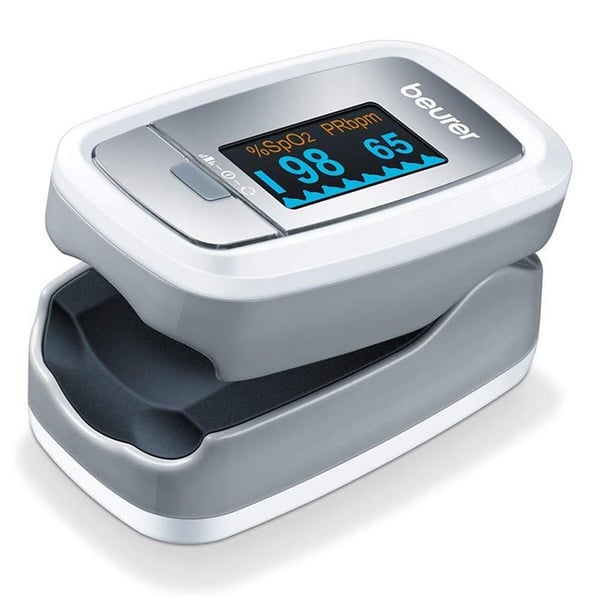 Beurer PO 30 Pulse oximeter
Practical self-control of your arterial oxygen saturation and your heart rate (pulse)
Your oxygen saturation tells you about the percentage of haemoglobin in your arterial blood that is loaded with oxygen: It's an insight into your respiratory function. A pulse oximeter can be helpful for athletes and those who enjoy activities at high altitudes. For those who are at risk of respiratory failure, such as those with asthma or heart disease, a pulse oximeter can be a life-saver.
Measuring oxygen saturation
Oxygen saturation indicates the percentage of haemoglobin in arterial blood that is loaded with oxygen. Therefore it is an important parameter for assessing the respiratory function. To take a measurement, the pulse oximeter uses two rays of light with differing wavelengths, which strike the finger inserted inside the housing.
In healthy people, oxygen saturation is around 94% to 98%. People with a low oxygen saturation value are more likely to experience the following symptoms: shortness of breath, increased heart rate, weakness, nervousness and outbreaks of sweating. If oxygen saturation is known to be chronically diminished, it requires monitoring.
| | | |
| --- | --- | --- |
| Very simple and completely painless determination of arterial oxygen saturation and heart rate on the finger. | Especially suitable for people with heart failure, chronic obstructive pulmonary disease or bronchial asthma. | Also ideal for sports at high altitudes, such as mountaineering, skiing or sports aviation. |