Agu – Mesh Nebulizer – Green/White AGU N8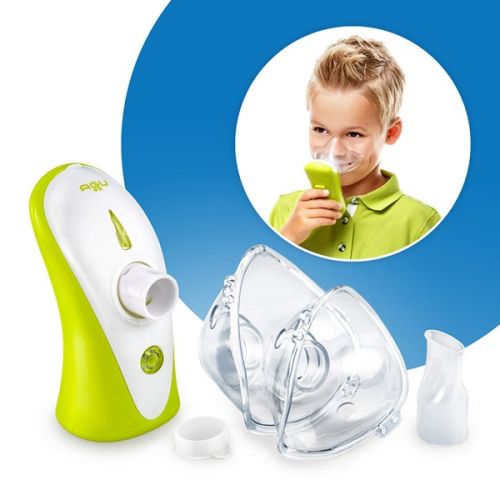 Children do not like to sit still for too long and the loud noise from compressor nebulizers can scare them. With the mesh nebulizer AGU Tomchi, children will like to do their inhalations and they can hold the device themselves. Mesh Nebulizer AGU Tomchi is specifically designed to cure catarrhal diseases of the respiratory tract in children. The aerosol particle size (MMAD) of 3,6 μm allows the medicine to act directly on the diseased sites that are localized in the trachea and bronchi. Its nebulization rate (over 0.35 ml/min) helps to carry out the procedure faster than usual; a child can easily undergo an inhalation within the short timeframe. This lightweight, silent and compact nebulizer will be your handy helper in health around your home and when travelling.
FEATURES :
• Silent . No noise; without interfering to user.
• Small and light device . Easy for the child to hold it and even do the inhalations himself/herself
• *Micro USB operation
• Micro USB operation
• Thanks to liquid collection system the liquid does not spill
• Membrane cleaning mode to remove drug residue Self-cleaning mode
We also provide international wholesale and retail shipping to all GCC countries: Saudi Arabia, Qatar, Oman, Kuwait, Bahrain.

More Products